EAGLE IDAHO'S TOP REAL ESTATE AGENT
Alei Merrill is an authority on Eagle Idaho homes for sale. She is the leading real estate agent in Eagle and has advised hundreds of buyers and sellers over the last 18 years with sales in excess of $500 Million. She has built her reputation one relationship and successful transaction at a time. Her undisputed knowledge of Eagle comes from living in the town since the population was a few hundred people. Alei's luxury sales, marketing expertise, contract negotiation, and personal promise to maximize value are a few reasons people want her on their side.
Message Alei at 208-900-2534   |   A few of Alei's Sold Listings
Alei's promise to you is a trusted experience with the highest level of fiduciary and confidentiality – and always a friendship that extends beyond the transaction. With her insider knowledge and network of connections, Alei is your resource when it is time to make a move. Living, working, and specializing in Eagle her entire career, Alei looks forward to assisting you.   
Schedule a Strategy Session Zoom with Alei
Unmatched Market Expertise
Eagle, Idaho speaks for itself….the river, the trees, large acreage properties, quaint downtown, and amazing schools. A friendly feel, a multitude of recreation options, and some of the best restaurants in the Treasure Valley.

On Saturday mornings, you will see residents strolling the historic downtown as they shop at the Saturday Market or eat breakfast at one of the sidewalk cafes. Families can be seen walking or riding bikes along the Boise Greenbelt trail or in any of the master-planned Eagle neighborhoods. [Read Blog]
There are distinct lifestyle areas in Eagle – River Homes, Rim Homes, Acreage & Estate Homes, New Construction Homes, and Active Lifestyle Homes. Each area has its own attraction and charm, whether that is a stunning mountain view, living by a pond or river, or having a place for horses, you will find it in Eagle, Idaho. 
Call or text Alei at 208-900-2534 when its's time to learn why Eagle is a perfect place for you. She has specialized exclusively in Eagle real estate for 17 years.  It's important that you have an expert representing your interests in any relocation. [Be Informed]
Mastery of the Process
Your success in selling a property for the greatest gain is dependent on who you partner with. There has never been a time in history when experienced representation and world-class marketing are more important to your bottom line. You need expert advisement, flawless property positioning, and knowing which strategy to employ at what time. The right strategies can be worth tens of thousands of dollars and your home needs to be seen by the largest global audience possible. [Schedule a Seller Advisement Session]
The Exposure You Deserve
Your property in front of more potential buyers worldwide than anyone else.
Alei's Featured Listing
2620 N. Hollybrook Place Eagle, ID
$1,995,000 | 3 Bed | 3 Ba | 3085 sf | 5 Acres
Majestic pristine Eagle equestrian estate is a haven for rural bliss.
Enjoy 5 acres surrounded by captivating mountain views and wide open spaces, a charming single-level home provides unspoiled solitude.
The enchanting and spacious home features expansive bright rooms, a second primary suite, an inviting main living area, and stunning scenery from every window.
Precision metal fencing and gates are specifically designed for multiple pasture areas.
The gorgeous east-facing backyard provides tremendous comfort with an entertaining patio encircled by 42 mature timbered trees, a garden area, a variety of fruit trees, and a tranquil koi pond.
The large 44 x 48 barn provides two horse stalls, automatic water feeders, multiple tie posts, saddle stands, a mounting block, a tack room, a washing station, a workshop, and extensive storage and room for RV parking.
The exceptional full-size training arena and sprawling green hay pasture set the perfect backdrop for country living.
Only 7 minutes from downtown Eagle amenities.
There are things about this listing to only talk about in person. Call or text Alei at 208-900-2534 to learn more.
Alei has other listings coming on the market soon. Call her for more information.
Recently Sold by Alei
5609 Hondo Lane
2387 Sun Valley Place
1521 Fence Post Lane
6817 Schmidt Lane
2073 Oakhampton Drive
755 Hiddenwood Lane
1367 Chaucer Way
700 Fishing Creek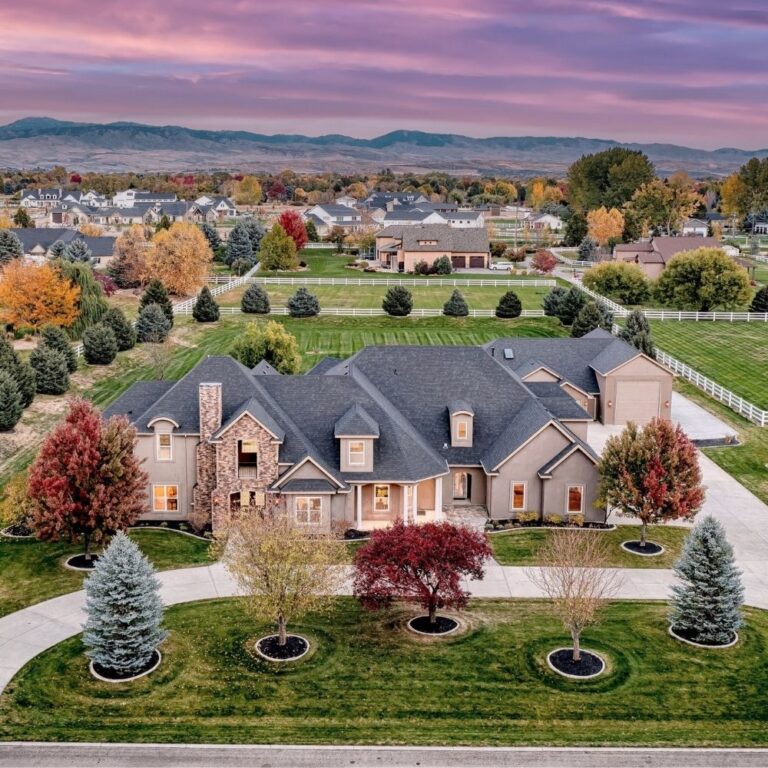 2166 Corsey
What Alei's Clients Say
HAS MASTERED HOW DEALS GET DONE
"Alei has mastered the art of getting deals done. You don't become a "Who's who in Luxury Real Estate" and not care about the process. She is a consummate professional who ALWAYS puts her clients' best interests first. She is one of the most honest and enthusiastic Agents you will find. There is no ego or bias involved. She consistently sells luxury homes and strategically navigates complex transactions with an upbeat attitude and uncommon diplomacy.
During negotiations, Alei knows how to protect her clients and solve problems of any size to ensure that all parties feel like they are getting a fair deal. You can tell Alei believes that at the end of the day it's about the person being happy."
— Michael Sinclair
THE FINEST REALTOR - EVER!
"The finest Realtor in Eagle, Idaho. We hired Alei for her expertise in selling luxury homes and we were not disappointed. Professional, excellent communicator, excellent negotiator, trustworthy, On the ball, and in control at all times. Would we hire Alei again? In a millisecond! Alei, thank you so much for being our agent and selling our home in Eagle. You truly are the best!
Her expertise in the market, real estate regulations and the best strategies to use made our home selling experience go absolutely flawless. She makes any scenario look easy. Forever grateful!"
— Tom Kirsch
ALWAYS READY TO SERVE
"We approached Alei randomly after she gave another couple a tour of a house in Eagle. She was warm and friendly and after talking with her for a couple of minutes we knew we found the Eagle "authority". We learned more about Eagle in 10 minutes than researching online for weeks. Alei cares about the person and the friendship...her network is unbelievable. You ask and she has someone there.
We asked her to represent us on the spot. After a well-advised offer the seller accepted our price the very next day! We have been loving life in our new home. Thanks to Alei's always ready-to-help personality. Thank You!"
— Kim & David Montgomery
PERFECTLY EXECUTED STRATEGY
"Alei is beyond words. She provided the service and professionalism in finding our dream home that was above anything we'd ever experienced. Alei spent countless hours, days, and months, assisting us in finding the house that fit all our needs.
My wife and I have bought several houses in the past and working with Alei was the easiest and least stressful of our experiences. She is positive and happy all the time. There were many coals in the fire, yet Alei balanced the sale of our old home and the purchase of our new home flawlessly. Alei is not only our Realtor, but due to her great personality we call her our Good Friend!"
— Claudio & Ann Vela
PASSIONATE AND DRIVEN!
"Because of her unrelenting work ethic, her sincerity, her knowledge of the area, her knowledge about the market and where it's going, we would not EVER think about using another Realtor. Alei always goes way beyond the call of duty. Long after the sale, Alei always picks up her phone and treats you like a best friend. She's authentic and we'd trust her with any decision."
Alei is genuine, she's caring, she's friendly, and she's real. Alei never made us feel like we were wasting her time. Alei is passionate and loyal - a dealmaker with the highest integrity. She is a wonderful person inside and out."
— Wayne & Holly Martin
GOING THE EXTRA MILE
"We could not have been more pleased with our experience of buying a home through Alei. We made several trips to look at homes with her but even more helpful were the video walkthroughs she did for us with thoughtful commentary on homes we were not able to see in person.
She has an amazing sense of caring and knowing what neighborhoods are valued at. She was able to get us into the home we wanted at the price we wanted. Best of all, we consider her a great friend! We picked Alei after reading a testimonial online just like this. What people say are true - she's all that!"
— Parker Fillmore
HER KNOWLEDGE IS SUPERIOR!
"Alei is beyond words. She provided the service and professionalism in finding our dream home that was above anything we'd ever experienced. Alei spent countless hours, days, and months, assisting us in finding the house that fit all our needs. Her expertise in the market, real estate regulations and the best strategies to use here in Idaho made our home buying experience go absolutely flawless. She makes any scenario look easy. Forever grateful!"
Every sale is complicated meaning every detail is important. Alei is completely committed to selling the property - no matter what she has going on at the time, you'll feel important. From the first meeting talking to Alei it was obvious she represents class and style."
— Linda & Greg Mansfield
CREAM OF THE CROP AGENT
"As a custom home builder in an always changing environment, it's important to have a Realtor that is at the 'top of her game' and knows what is happening in the market moment to moment. That's only one of the things we appreciate about Alei. She is on top of every market condition and ready to give insightful and honest advice at a minute's notice. When you work with Alei she isn't just your Agent, but a trusted friend who always looks out for your best interest. Alei has our utmost respect - she is an authority in her field and most importantly, the highest integrity....an incredible person and her professional service is cream of the crop."
— Juston & Kristine Hall
Your Distinct Advantage
When you save a search on ThinkAlei.com, any new homes matching your criteria will be delivered straight to your inbox the moment they go up for sale. Also, I will be notified of the type and price of the property you are looking for.
Maybe I will know of a home that is not on the market yet or will be in the future. You can make a request for me to be on the hunt for a specific home by clicking here.   
Call or text me at 208-900-2534 to schedule an in-person showing on any home currently on the market. I am happy to walk you through the property,  answer any questions, and guide your decision. I look forward to talking.